M25 AUDITION is open 365 days a year.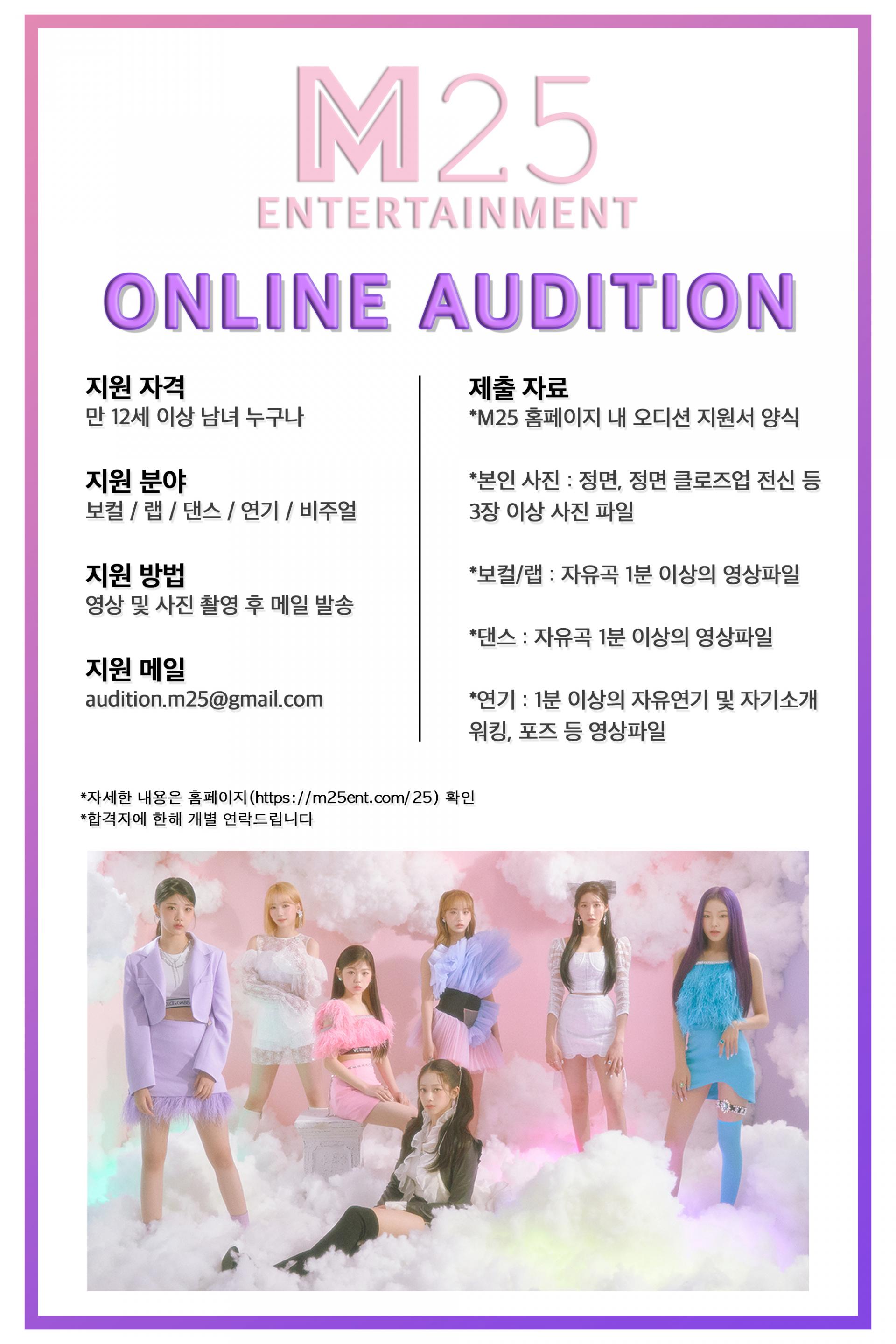 M25 AUDITION support guide
1. Eligibility to apply
Any nationality, any age. Anyone can apply.
2. Field of Recruitment
Vocal / Rap / Dance / Acting / Visual
3. Recruitment process
- Website, e-mail and postal application → Individual notification of successful applicants → Camera test and staff audition → Final audition
*Email : m25audition@gmail.com
* Mailing address : 4F 19-1, Seolleung-ro 145-gil, Gangnam-gu, Seoul, Republic of Korea M25 Rookie training team
4. Audition Submission Materials
* Required materials to be submitted: Self-portrait (3 photos in total including front photo, front close-up photo, and full body photo, basic camera photo without correction)
- Vocal/Rap: Song video of 1 minute or more (required) / If you have your own song, attach it
- Dance: Choreography video files longer than 1 minute (songs are free songs, dances are covers and creative choreography)
- Acting: Video files longer than 1 minute (free acting, self-introduction, walking, pose, etc.)
* Please attach the submission materials for each application field to the website and email, and send the file to a storage medium (USB, etc.) for mail submission.
* Submitted audition application documents will not be returned, and applications will not be accepted.
5. Notes on audition registration
- Successful applicants will be contacted individually by phone or text message.
- Photos that have been corrected and corrected with Photoshop or other applications, and photos that are not frontal are excluded from the first screening.
- Incorrect video and music files may receive a disadvantage in the review process, so please check before sending.
- We ask for your understanding as we do not provide a separate notice regarding the arrival of audition application documents.